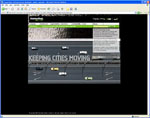 "The first people we talked to said our new website would take three
months. We went to IDEAS! and told them we needed it in 35 days.
They probably thought we were crazy, but they delivered a
quality product on time and on budget."
Mike Roberts
General Manager
Corporate Relations
Transurban deliver and maintain electronic tolling systems, which speed traffic flow by eliminating the need for toll plazas and boom gates. Due to the increase of this market throughout the world Transurban required a corporate web site to provide product, news and project details and they needed it in 35 days.
IDEAS! project team delivered the new web presence on time and within budget.
IDEAS! and Transurban continue to invest in the strategic relationship working on additional applications such as Human Resources Employment Opportunity enabling, Transurban to integrate and publish employment opportunities (EO) information to their web, on-line applications and workflow process to manage and filter candidates to the interview stage.