The Learning Organisation Forum

The Focus
Share Knowledge. Empower People. Drive Results.

We inherently know the value of accessing information and sharing experiences, yet as organisations we continue to struggle individually. Intranet, knowledge management, eLearning and service integration initiatives litter the road to utopia with varying degrees of success.

The learning organisation forums provide a small group of key influencers with the opportunity to share the experiences of what has worked and, perhaps more importantly, what hasn't.

When you pay attention to the business drivers and the human challenges, as well as the technology enablers, you create the possibility of your organisation having the culture, systems and processes that empower people to continually expand their capability to produce results.


The Experience
Personal. Professional. Passionate.

The learning organisation forums are focused on your issues. It is the interaction with others, who have similar interests and challenges, that adds the real value.

We aim for a select number of participants:

large enough; to provide access to a broad range of practical experiences.
small enough; so there is plenty of opportunity for you to actively participate.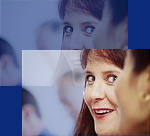 Download a PDF copy of

The Learning Organisation Forum Discussion Summary - Melbourne 25/03/03

(226K)

Speakers
Real People. Real Experiences.

Melbourne Crown Complex
March 25th.
As well as sharing with other participants, this Learning Organisation Forum provided participants with the opportunity to share the experiences of:

ANZ Bank
(Geoff Beckworth)
Moving from an anarchistic Intranet that was out of control to "Max" the Intranet used daily by 26,000 employees to receive communications, find information, and undertake a myriad of processes.

Australian Taxation Office
(Debbie Mitchell)
Share in the experiences of the ATO as they utilise the Internet to transform their relationship with one of their key communities.

IDEAS!
(Rob Miles)
Learn the insights gained on her recent world tour exploring the latest trends in Organisational eLearning, metadata and accessibility.

Victorian Government
Multimedia Victoria
(Glenys Reid)
The Victorian Government framework for benefit realisation and approaches to overcoming the difficulty of valuing the intangibles provided by online information management.